One of the most effective ways to reach the community around your home and your church is to plan an Outreach and Attendance Campaign. 
Here are seven keys to planning your Campaign…
Key 1, Team Ministry: God has not called the individual Christian to go it alone in an effort to influence and reach others for Christ. He has equipped the entire local church as a team where corporately we all play different roles, using our individual spiritual gifts to fulfill the Great Commission…"the whole body, joined and knit together by what every joint supplies, according to the effective working by which every part does its share, causes growth of the body for the edifying of itself in love." Ephesians 4:16
Key 2, Relationships: The majority of unchurched people do not come to church seeking to grow spiritually or to meet their Savior. They come to connect with others. The more relationships an unchurched person has within the church, the more likely they are to attend the church and the less likely they are to leave the church. 86% of church attendees are there at the invitation of a friend or relative. We must intentionally develop trusting, redemptive relationships with as many unchurched people as possible.
Key 3, Saturation: Saturation is going the extra mile. It is persistence. Saturation creates synergy, where the combined effort is greater than the sum of the individual efforts. Each evangelistic Outreach effort we attempt must be saturated in prayer and with as many different touches as possible to influence individuals for Christ.
Key 4, Presentation: A person must hear the Gospel and have an opportunity to respond. This can be done through many forms, including at your Friend Day.
Key 5, Intentional: Most new Christians naturally share their faith because of their excitement. As Christians grow older, they tend to become less outwardly focused with the Gospel. As a result, churches stop growing and stop reaching their communities. To start growing again, we must be intentional again at reaching out with the Gospel.
Key 6, Experiment: There are may ideas and methods for how to reach out with the Gospel. Be open to experimenting while constantly evaluating effectiveness. Search for and adopt those methods that best fit your neighborhood and community.
Key 7, Excitement: Excitement builds a church. When people get excited about what is happening in their lives and in their church, they cannot keep it to themselves. When they share that excitement with others, it attracts them to their church as well.
---
This article is excerpted from Dr. Elmer Towns' popular Friend Day: Church Friendship Outreach & Attendance Campaign.
Permission granted to copy, forward, share, post and reproduce everything in this article, please include this link Source: ChurchGrowth.org, CLICK HERE to subscribe for FREE
Dr. Elmer Towns is Vice President of Liberty University, which he co-founded in 1971 with Dr. Jerry Falwell. Dr. Towns has been a popular Sunday school teacher and college and seminary professor for decades. He is well-remembered for his roles as Sunday school teacher at Thomas Road Baptist Church and professor at Liberty University, where his students have always been fond of his personable teaching style, full of wit and wisdom. He is a Gold Medallion Award-winning author of the Christian Bookseller Association's (CBA) 1995 Book of the Year, The Names of the Holy Spirit. Ten of his more than 100 books are listed as Christian best sellers and several are adopted as college textbooks. While he has earned many academic and professional titles, Dr. Town's most prized titles are husband, father, grandfather…and child of God the Father.
Sign up for Dr. Elmer Towns' free daily devotional email, PRIME TIME WITH GOD. Each email includes a prayer, a Scripture verse, a devotional reading, and Scripture references for going deeper, as well as links to other resources to encourage you in your Christian life. Each Scripture reference is linked to the full text of Scripture online for ease in finding Bible passages related to the daily devotional reading, and where you can easily choose to read the passage with your favorite Bible translation. The daily devotions are delivered by email each morning for your convenience.

Free Online Spiritual Gifts Survey: Discover what you are gifted by God to do on this earth in about 20 minutes, Click Here
---
Here are more free articles, one for each of the nine Team Ministry Spiritual Gifts…
---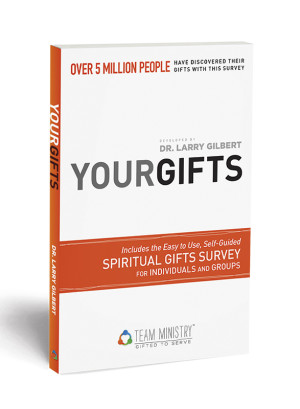 You are gifted.
Discover more about your spiritual gifts and each of the nine team gifts.
For individuals and groups.
Read This Book NOW, eBook Instant PDF Download, Click Here
Read This Book with Your Group, Only $9.99, as low as $7.99 with Bulk Pricing for Groups, Click Here
---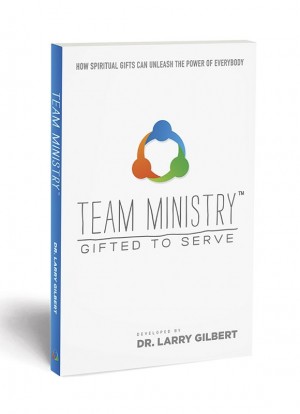 Spiritual Gifts Can Unleash the Power of Everyone!
Lead others to discover their spiritual gifts.
For pastors, teachers and group leaders.
Read This Book Now, eBook Instant PDF Download, Click Here
Read This Book with Your Group of Pastors and Shepherds, Bulk Pricing for Groups, Click Here
---
Click on each cover below for more information