Every true Christian has spiritual gifts.
As we shall see, God gives every believer at least one spiritual gift at the time of the New Birth. Yet many Christians live much or all of their Christian life without realizing that fact or the impact of such a truth.
The fact that every Christian receives at least one spiritual gift is evident in Scripture. All italics emphases are mine:
Clearly, from the context of these passages, God is talking about the Christian when He says "each one" or "each of you." In 1 Corinthians 12:29, Paul asks, "Are all apostles? Are all prophets? Are all teachers? Do all work miracles?" The obvious answer to Paul's series of questions is, "No." Therefore, we must conclude  that all Christians have at least one spiritual gift and no Christian has them all.
Scripture indicates that you receive this gift at the very moment of your salvation conversion, along with the Holy Spirit, the Enabler who empowers you to use those gifts effectively. 
What about 2 Timothy 1:6 and 1 Timothy 4:14? These verses seem to indicate that one receives a spiritual gift by the laying on of hands. This seems to be a special case because Timothy was to be an apostolic delegate with great authority. That his authority came through the Apostle Paul is witnessed by the laying on of Paul's hands (see 2 Timothy 1:6).
Some Christians, in an attempt to humble themselves, deny that God would give them a gift. To that statement comes the reply: Humility is the correct evaluation of your abilities and disabilities and living in the light of that evaluation. Humility is not a matter of denying one's God-given ability and potential, but of recognizing its presence, developing it and being thankful for it.
---
Dr. Larry Gilbert is founder and chairman of Ephesians Four Ministries, and founder of ChurchGrowth.org. For more on spiritual gifts, see Dr. Gilbert's books from which this article was excerpted  Your Gifts: Discover God's Unique Design for You (for individuals and small groups) and  Team Ministry: Gifted to Serve (for pastors and group leaders) published by ChurchGrowth.org Copyright © 2015 ChurchGrowth.org. Other Team Ministry spiritual gifts resources are shown below, including the Your Gifts Spiritual Gifts Survey. For a free online Spiritual Gifts Survey, click here

Permission granted to copy, forward, share, post and reproduce everything in this article, please include this link Source: ChurchGrowth.org, CLICK HERE to subscribe for FREE
---
Free Online Spiritual Gifts Survey: Discover what you are gifted by God to do on this earth in about 20 minutes, Click Here
---
Here are more free articles, one for each of the nine Team Ministry Spiritual Gifts…
Each of these nine Team Ministry Spiritual Gift articles was excerpted from the book Your Gifts: Discover God's Unique Design for You.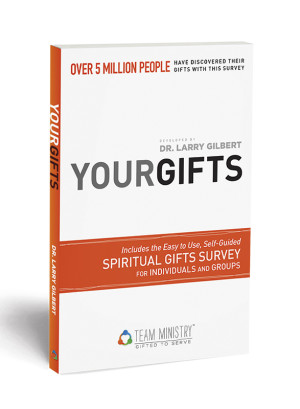 You are gifted.
Discover more about your spiritual gifts and each of the nine team gifts.
For individuals and groups.
Read This Book NOW, eBook Instant PDF Download, Click Here
Read This Book with Your Group, Bulk Pricing for Groups, Click Here
---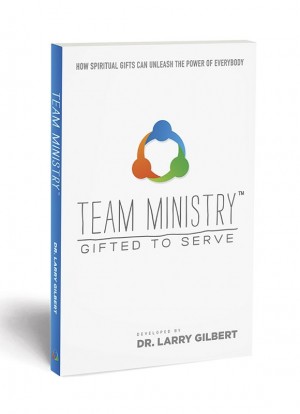 Spiritual Gifts Can Unleash the Power of Everyone!
Lead others to discover their spiritual gifts.
For pastors and group leaders.
Read This Book Now, eBook Instant PDF Download, Click Here
Read This Book with Your Group of Pastors and Shepherds, Bulk Pricing for Groups, Click Here
---
Click on each cover below for more information