Team Ministry focuses on people serving where they fit best, based on their God-given spiritual gifts and personalities.
You may have taken a spiritual gifts survey. If not, take a few minutes to complete this free online survey to begin discovering your God-given spiritual gifts, CLICK HERE.
When you identify your spiritual gifts, it is a starting point to grow and serve God in the way He intends.
Don't stop there. Dig deeper to learn more about your spiritual gifts and how they relate to your daily life. Discover how God can work through you, and how God can use you and your spiritual gifts.
You will find that the Team Ministry Spiritual Gifts Surveys concentrate on nine spiritual gifts, summarized below. While there are other spiritual gifts listed in the Bible, many groups have differing views of which gifts are given by God today. Read this other article if you want to learn more about How Many Spiritual Gifts Are There?
The nine Team Ministry Spiritual Gifts are the team or task-oriented gifts for use in daily life and ministry.
Here are brief descriptions and Bible references for the nine Team Ministry Spiritual Gifts…
With which of these gift characteristics do you identify?
While everyone has the potential to exercise each of these spiritual gifts to a certain degree, most people will find their strengths in one, two or three of these gifts.
When you identify your strongest spiritual gifts, you can concentrate on developing and using those spiritual gifts for serving God, ministering to others, and supporting the ministries of your church.
You'll begin to see how your spiritual gifts also influence your daily life at home and in your community.
By God's design, "Open your gifts" and allow God to work through You.
---
Dr. Larry Gilbert is founder and chairman of Ephesians Four Ministries, and founder of ChurchGrowth.org. For more on spiritual gifts, see Dr. Gilbert's books: Team Ministry: Gifted to Serve (for pastors, teachers and group leaders) and Your Gifts: Discover God's Unique Design for You (for individuals and groups).
Here are more free articles, one for each of the nine Team Ministry Spiritual Gifts…
---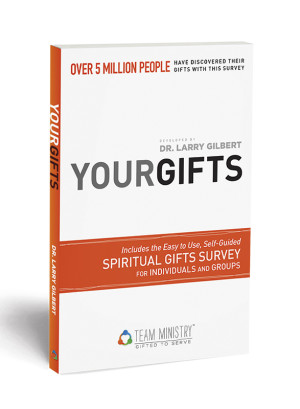 You are gifted.
Discover more about your spiritual gifts and each of the nine team gifts.
For individuals and groups.
Read This Book NOW, eBook Instant PDF Download, Click Here
Read This Book with Your Group, Bulk Pricing for Groups, Click Here
---

Free Online Spiritual Gifts Survey: Discover what you are gifted by God to do on this earth in about 20 minutes, Click Here
---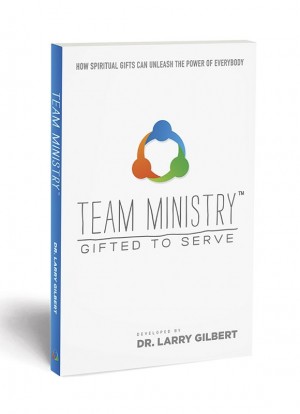 Spiritual Gifts Can Unleash the Power of Everyone!
Lead others to discover their spiritual gifts.
For pastors and group leaders.
Read This Book Now, eBook Instant PDF Download, Click Here
Read This Book with Your Group of Pastors and Shepherds, Bulk Pricing for Groups, Click Here
---
Click on each cover below for more information