THE SHEPHERD
The Greek word for pastor is poimen. In Ephesians 4:11, where Paul is listing spiritual gifts, this term is translated "pastor." The word poimen is translated pastor only one time in all of Scripture; however, it is used sixteen additional times. The remaining sixteen times are all translated "shepherd." Therefore, we must recognize that although Scripture uses the term pastor in this one instance, we are discussing the gift of Shepherding, not the position or office of the pastor.
Though the pastor must have the gift of Shepherding, everyone who has the gift of Shepherding does not have the position of pastor. This gift can be utilized in many positions in the church other than senior pastor. The term shepherd and pastor can be used interchangeably, as you will see throughout this chapter and beyond.
If you are a Shepherd, you have the spirit-given capacity and desire to serve God by overseeing, training, and caring for the needs of a group of Christians. You are the shepherd who leads and feeds: the coach of the Team.
Shepherds lead and feed, guard and protect, and oversee flocks. They coach and lead their Teams. The main thing on their "shepherd" minds is the welfare of those in their care—their "sheep." They work under a pastor and are therefore an extension of the pastor and must "oversee" their part of the flock.
The Shepherd is not a "jack of all and master of none," but a "jack of all and master of one." My experience has been that when this gift is used in the pastorate, the individual probably has another dominant speaking gift besides the gift of Shepherding. Although many are strong Evangelists or Teachers, or even Exhorters, most pastors of large churches have a dominant gift of Administration. While the Shepherd's heartbeat is shepherding the flock God has given, the other dominant gift complements their ministry.
Ephesians 4:11 suggests that if anyone is given the gift of Shepherding, then he or she must also have the gift of Teaching. If you are sure you do not have a Teaching gift, then you can be sure God has not called you to the pastorate.
A Sunday school teacher or small group leader (man or woman) is a Shepherd the same as the pastor is a Shepherd. Sunday school teachers are really pastoring small churches within a church. Their responsibility is to shepherd the class members. The position demands the gift.
First Corinthians 12:11 says that when God gives gifts, He divides "to every man severally as He will." Severally means according to one's own ability. God gives the gift of Shepherding and puts one in a position where he or she can function according to God-given ability. Some may have the ability to care for ten people, thus utilizing their gift in a capacity such as a Sunday school teacher or small group leader. On the other hand, God may give someone else the ability to care for hundreds; therefore, allowing them to utilize their gift in the position of pastor.
Acts 14:23 says "And when they had ordained them elders in every church" which indicates that more than one elder is to be appointed in the church. First Timothy 5:17 says "Let the elders that rule well be counted worthy of double honor, especially they who labor in the word and doctrine" which indicates that the elders had different ranks, or junior and senior elders. Who are these junior elders or pastors? They are Sunday school teachers and group leaders. When Luke penned Acts 14:23, Sunday school did not exist. If it had existed then, the verse may have read, "And they ordained pastors and Sunday school teachers in every church."
---
Dr. Larry Gilbert is founder and chairman of Ephesians Four Ministries, and founder of ChurchGrowth.org. For more on spiritual gifts, see Dr. Gilbert's books from which this article was excerpted: Team Ministry: Gifted to Serve (for pastors and group leaders) and Your Gifts: Discover God's Unique Design for You (for individuals and groups).

Articles in this series include…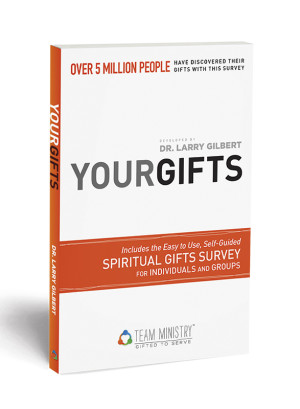 The chapter from which this article was excerpted also includes…
9 Characteristics of The Shepherd
17 Burdens, Desires and Strengths of The Shepherd
6 Special Needs and Weaknesses of The Shepherd
5 Ways in which The Shepherd is Misunderstood
4 Ways Satan Attacks the Gift of The Shepherd
7 Places where The Shepherding Gift can be Used
The Witnessing Style of The Shepherd
Read This Book NOW, eBook Instant PDF Download, Click Here
Read This Book with Your Group, Bulk Pricing for Groups, Click Here
---

Read This Book NOW, 74-page eBook Instant PDF Download, Click Here
---
---
Click on each cover below for more information