THE GIVER
The Greek word word Metadidomi means to give over, to share, to give to, to impart. The important thing here is not to spiritualize and explain away this gift. Some say that this gift refers to giving of yourself and your time; that it doesn't really mean giving money or material resources. On the contrary, Givers honestly feel that the best way they can give of themselves is to give of their material gain for the work of God. They feel that since God gave them the ability to make money, they should use it to give back to God and His work. Everyone should tithe,but the Giver goes far beyond the tithe.
The Scriptures point out Giving as one of the gifts in Romans 12. The Giver is encouraged to give "in simplicity" (Romans 12:8). Most Christians with the gift of Giving do so without fanfare and public recognition. In fact, Givers usually do not wish for people to know whom they are or how much is given.
Givers have the attitude that tithing is the outward evidence of an inward commitment. Tithing is not giving 10 percent; it's receiving 90 percent. It is a commandment for all Christians. The gift of Giving starts where tithing ends.
If you are a Giver, you have the Spirit-given capacity and desire to serve God by giving of your material resources, far beyond the tithe, to further the work of God. You are the person who meets the financial needs of fellow Christians and church members.
Givers would look with disapproval on the person who gives with the wrong motive—giving to get (e.g., trying to intimidate God into returning the monetary gift). They would not encourage giving up grocery money, but would agree with giving the money that was saved toward a new flatscreen TV, for more urgent, worthy or eternal purposes. Their motive for giving is always to further the work of God and not to "show off," though some might think otherwise of them.
In Acts 4:34–5:10, there is a significant description of people who had unusual opportunities to give. In the early church, Christian landowners often sold their property and other possessions and gave the proceeds to the church in order to care for those in need. One of those men was Barnabas. He sold his land and laid the money at the Apostles' feet (Acts 4:36-37).
But Ananias and Sapphira sold their land and schemed to give only part of the money to the Lord's work. They lied and tried to deceive the apostles (Acts 5:1-10). It is interesting to compare the attitudes and the rewards those attitudes received. Barnabas eventually accompanied the Apostle Paul in much of his ministry. God killed Ananias and Sapphira on the spot as a result of their treachery.
The proper attitude about the gift of Giving is probably best illustrated by the story of the Honorable Alpheus Hardy, who used money to support missionaries and educate ministers. His monetary support helped lay the foundations for Christianity in Japan.
During college, Hardy's health broke and he discovered he could not become a minister. "My distress was so great I threw myself flat on the floor," he said of one morning's depression. "'I cannot be God's minister' kept rolling in my mind. It was the voiceless cry of my soul."
During that ordeal God revealed to Hardy that he could serve God with similar devotion in business. To make money for God might be his special calling and gift. The answer was so clear and joyous he exclaimed aloud, "O God, I can be Thy minister." Making money and giving it to God became his ministry.
Another example of how a man's gift of Giving can be so greatly used is Dr. Oswald J. Smith, writer of the song "Then Jesus Came." His desire was to become a missionary. Instead, God placed him in the pastorate and used him to send missionaries and money for missions all over the world. He is recognized as one of the greatest missionary benefactors of recent history.
There must be a distinction made between the gift of Giving and the grace of giving. First, realize that tithing and giving are responsibilities of every Christian. The tithe is the first fruits of our increase. It is God's and we should give it to Him immediately. Luke 6:38 is for every Christian, not just those with the gift of Giving. That is the grace of giving—giving from a heart of love, allowing God to furnish the returns when we have given from a desire to help others and further His work.
An evangelist visited a college campus where I was attending for a week of meetings. His messages on giving inspired personal testimonies from students who gave and received throughout the week. Many caught the spirit and gave and gave. The problem, though, didn't surface until several weeks later when the students' bills came due. They couldn't pay their bills; they had given the money away. What went wrong? After all, the Scripture does say to give and you will receive.
First of all, the evangelist was not aware of the gift of Giving. He failed to tell us (or was unaware) that all the people in the many overwhelming testimonies had the gift of Giving. When it comes to giving and receiving, some principles apply only to those with the gift of Giving (such as the ability to give beyond their means).
Secondly, some of the students did not have their hearts in the right place. They were not giving to help God as much as to help themselves. Motive is the key to giving and receiving. The proper motive is giving to receive in order to give again. These young people were giving to receive so they would have more at the end.
Many Christians, in sheer desperation, have given all they had trying to bail themselves out of a jam, only to see their efforts fail. You can't give yourself out of a financial jam, nor can you give your way to prosperity with that end as a motive. It's like borrowing to get out of debt.
Givers must observe four guidelines:
Do not love riches.

Give for the right reason.

Make giving your reason for gaining wealth.

Keep your spiritual life strong and consistent with God.
---
Dr. Larry Gilbert is founder and chairman of Ephesians Four Ministries, and founder of ChurchGrowth.org. For more on spiritual gifts, see Dr. Gilbert's books from which this article was excerpted: Team Ministry: Gifted to Serve (for pastors and group leaders) and Your Gifts: Discover God's Unique Design for You (for individuals and groups).

Articles in this series include…
The chapter from which this article was excerpted also includes…
9 Characteristics of The Giver
9 Burdens, Desires and Strengths of The Giver
4 Special Needs and Weaknesses of The Giver
5 Ways in which The Giver is Misunderstood
7 Ways Satan Attacks the Gift of The Giver
8 Places where The Giving Gift can be Used
The Witnessing Style of The Giver
Read This Book NOW, eBook Instant PDF Download, Click Here
Read This Book with Your Group, Bulk Pricing for Groups, Click Here
---
Free Online Spiritual Gifts Survey: Discover what you are gifted by God to do on this earth in about 20 minutes, Click Here
---
Read This Book NOW, 68-page eBook Instant PDF Download, Click Here
---
Click on the covers below for more information on these Giving Resources…
---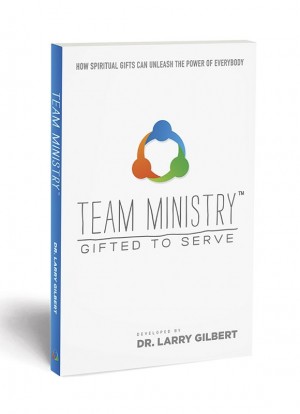 Spiritual Gifts Can Unleash the Power of Everyone!
Lead others to discover their spiritual gifts.
For pastors and group leaders.
Read This Book Now, eBook Instant PDF Download, Click Here
Read This Book with Your Group of Pastors and Shepherds, Bulk Pricing for Groups, Click Here
---
Click on each cover below for more information