A presupposition is an assumption, something taken for granted; a deduction lacking direct evidence.
There are many pesky presuppositions that are "guilt–makers" and barriers to outreach and evangelism – the process of influencing others for Christ.
Let's eliminate some of these presuppositions that prevent many Christians from reaching others with the love of Jesus Christ…
Any Christian who is willing to commit himself or herself can become a dynamic witness to others, skillfully able to meet total strangers and lead them to Christ.  Truthfully, not everyone is going to develop into a door-to-door evangelist or street preacher. Only Christians with the gift of evangelism can effectively do this. However, all Christians can use their own God-given spiritual gifts in the process of evangelism and can help bring people to Christ.
I need to participate in an intense, repetitive training program before I can effectively share Christ with others. You do not have to participate in a lengthy training program, memorizing dozens of Scripture passages and answers to objections to effectively reach out to others. Being secure in your relationship with Christ with a simple understanding of salvation will work.
I must increase my level of spirituality before I can effectively share Christ with others. If we could measure spirituality on a scale of one to ten, where would you be? Realistically, no one would be a "10." Regardless of where anyone would be, most people at one time or another were convinced that before they could effectively share Christ, they had to become more spiritual. I am not suggesting that spiritual growth is unnecessary or that discipleship training is optional. However, a higher level of spirituality should never be a prerequisite or barrier for sharing Christ with others. You only need to understand your relationship to the Holy Spirit of God, the nature of evangelism itself, and the use of the particular witnessing method with which you are comfortable.
"Spiritual" Christians are concerned about the spiritual well-being of casual acquaintances and strangers. Most people care about those within their own sphere of influence: family, friends, neighbors, and associates. They will pray for and work harder to win familiar people to Christ than they will for strangers. Christians are more likely to invite neighbors to an meal or event where they have opportunity to hear the Gospel than they are to invite a stranger or distant acquaintance. The truth is that everyone cares more for some people than others because of established relationships which have developed over the years. People improve their potential for effective witnessing by concentrating on those with whom they regularly communicate, and these are the ones who are most receptive to them, their church, and their Savior.
The longer I am a Christian, the fewer unchurched friends I will have, until finally all my friends are church-attending Christians. Many people believe they cannot do any form of evangelism because the people with whom they have relationships are already Christians. Therefore, all they have left to reach are strangers. Everyone, regardless of how long they have been a Christian, has relationships with many people who do not know Christ and do not attend a church.
Sharing Christ with someone should be a "now-or-never" decision-making situation. Some Christians believe a person has not even witnessed unless he or she has presented the Gospel and pressed for a decision. Most Christians are taught to present the Gospel as if everyone is going to die tomorrow. The Bible does teach that we "do not know what will happen tomorrow" and life is "a vapor" (James 4:14), but pressing for an immediate decision often builds barriers that prevent people from accepting Christ. Even worse, it builds barriers in Christians that prevent them from even presenting the Gospel. Sharing Christ can be a process. Done at the right time, in the right place, and in right way makes a difference in successfully influencing others for Christ.
Before I can share Christ with others, I must become sales-oriented and able to get a decision. Many people view evangelism as a "when I build up enough nerve" program. They feel sure they have to change and become like someone else to share Christ effectively. The truth is that you can be yourself and be effective and inoffensive in sharing Christ.
Some important questions…
Would you be a witness for Christ if you did not have to become someone else to do it?
Would you be a witness if you did not have to pressure someone into a decision for Christ?
Would you be a witness if you did not have to participate in an intense, prolonged training program?
Would you be a witness if you could just be yourself?
The goal of Team Evangelism is to become part of a team that will help you to "do the work of an evangelist" (2 Timothy 4:5) through utilizing the spiritual gifts which God has given to you.
The 90 percent of the Christians who do not have the spiritual gift of Evangelism can work in harmony with the 10 percent who do have the spiritual gift of Evangelism, using the individual spiritual gifts which God has given to them to influence others for Christ.
Team Evangelism allows all Christians to be themselves, using their God-given spiritual gifts to be the person God intends to effectively reach others.
---
This article is excerpted from the book Team Evangelism: How to Influence Your Loved Ones for Christ When You Don't Have the Gift of Evangelism by Larry Gilbert. Copyright © ChurchGrowth.org
For help on teaching others about how to share their personal testimony, see Team Evangelism: Everyday Evangelism for Everyday People
Dr. Larry Gilbert is founder and chairman of Ephesians Four Ministries, and founder of ChurchGrowth.org. For more on spiritual gifts, see Dr. Gilbert's books: Team Ministry: Gifted to Serve (for pastors and group leaders) and Your Gifts: Discover God's Unique Design for You (for individuals and groups).
Here are more free articles, one for each of the nine Team Ministry Spiritual Gifts…
---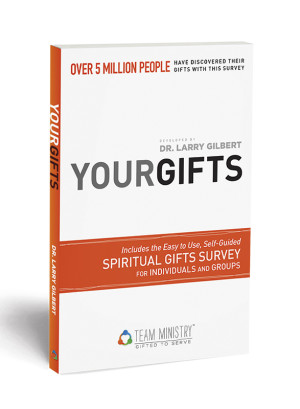 You are gifted.
Discover more about your spiritual gifts and each of the nine team gifts.
For individuals and groups.
Read This Book NOW, eBook Instant PDF Download, Click Here
Read This Book with Your Group, Bulk Pricing for Groups, Click Here
---

Free Online Spiritual Gifts Survey: Discover what you are gifted by God to do on this earth in about 20 minutes, Click Here
---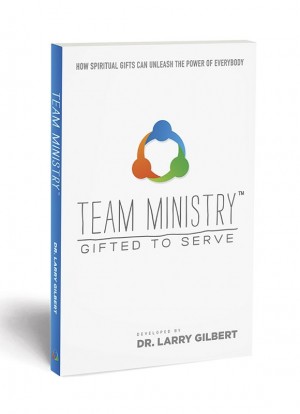 Spiritual Gifts Can Unleash the Power of Everyone!
Lead others to discover their spiritual gifts.
For pastors and group leaders.
Read This Book Now, eBook Instant PDF Download, Click Here
Read This Book with Your Group of Pastors and Shepherds, Bulk Pricing for Groups, Click Here
---
Click on each cover below for more information