A young man received an envelope from his grandfather upon graduation from high school.
He decided not to open it until he had finished college. After all, he knew it contained money promised to him for years. So he decided to discipline himself by saving it to help start his career rather than using it for college. So for four long years he attended college during the day and worked evenings and nights.
Finally the day he had restrained himself for had come. With degree in hand, ready to start his new career, he opened the gift his grandfather had left for him years before. Just as he had anticipated, it contained several thousand dollars; but to his dismay, it also contained a fully paid scholarship to one of the finest colleges in the land.
God has also given you a gift, but it is up to you whether or not you open it.
It is your birthday present, given to you by God at the time of your spiritual birth. Once you open it and examine it, you too may be surprised.
Don't miss out on the blessings God has for you.
Your challenge is two-fold.
First, you are to do as instructed by the Apostle Paul…
Therefore I remind you to stir up the gift of God which is in you.
2 Timothy 1:6
Second, to do as admonished by the Apostle Peter …
As each one has received a gift, minister it to one another, as good stewards of the manifold grace of God.
1 Peter 4:10
---
Dr. Larry Gilbert is founder and chairman of Ephesians Four Ministries, and founder of ChurchGrowth.org. For more on spiritual gifts, see Dr. Gilbert's books, from which this article was excerpted: Team Ministry: Gifted to Serve (for pastors and group leaders) and Your Gifts: Discover God's Unique Design for You (for individuals and groups).

Free Online Spiritual Gifts Survey: Discover what you are gifted by God to do on this earth in about 20 minutes, Click Here
---
Here are more free articles, one for each of the nine Team Ministry Spiritual Gifts…
Each of these nine Team Ministry Spiritual Gift articles was excerpted from the book Your Gifts: Discover God's Unique Design for You.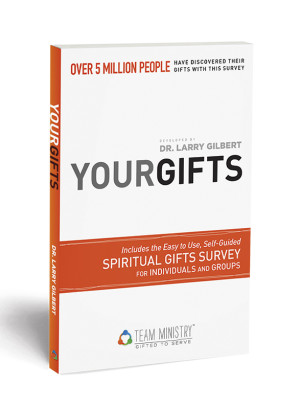 You are gifted.
Discover more about your spiritual gifts and each of the nine team gifts.
For individuals and groups.
Read This Book NOW, eBook Instant PDF Download, Click Here
Read This Book with Your Group, Bulk Pricing for Groups, Click Here
---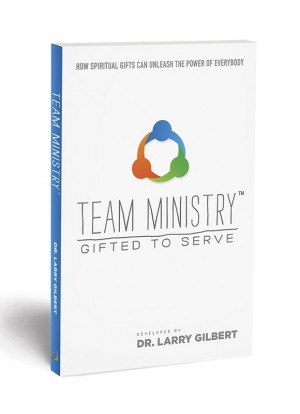 Spiritual Gifts Can Unleash the Power of Everyone!
Lead others to discover their spiritual gifts.
For pastors and group leaders.
Read This Book Now, eBook Instant PDF Download, Click Here
Read This Book with Your Group of Pastors and Shepherds, Bulk Pricing for Groups, Click Here
---
Click on each cover below for more information