Every Christian has a personal testimony of what God has done for them.
One testimony may not be as dramatic as another, but all Christians have a personal testimony.
Besides your salvation experience, your testimony may include what God has done for you since you accepted Jesus Christ as your Savior.
Each of us can tell of special occasions when God has answered a prayer, met a need or brought us through a difficult time. We may tell of how God has changed our lives.
Your testimony could include your renewed commitment to Christ. It is not only about your salvation experience.
You might want to tell others about what happened when you really got serious and decided to do things God's way or when you started letting His Word become your guide for daily living.
You may not think you are really giving a testimony because what you are saying is not "spiritual enough."
You may believe that you must be filled with emotion and use just the right words coming from the pages of Scripture to be giving a testimony. But this is not so.
In fact, sometimes we make our testimonies so spiritual and scriptural that our Christian language does not relate to our friend who doesn't know Christ.
Remember, your friend may not have been going to church for years and may have a totally different vocabulary. Being too spiritual can scare them off.
In any case, let the Holy Spirit guide you to share whatever you feel will demonstrate the love and grace of God. Tell your friend why you have faith in God.

That is your personal testimony.
---
This article is excerpted from the book Team Evangelism: How to Influence Your Loved Ones for Christ When You Don't Have the Gift of Evangelism by Larry Gilbert. Copyright © ChurchGrowth.org
For help on teaching others about how to share their personal testimony, see Team Evangelism: Everyday Evangelism for Everyday People
Dr. Larry Gilbert is founder and chairman of Ephesians Four Ministries, and founder of ChurchGrowth.org. For more on spiritual gifts, see Dr. Gilbert's books: Team Ministry: Gifted to Serve (for pastors and group leaders) and Your Gifts: Discover God's Unique Design for You (for individuals and groups).
Here are more free articles, one for each of the nine Team Ministry Spiritual Gifts…
---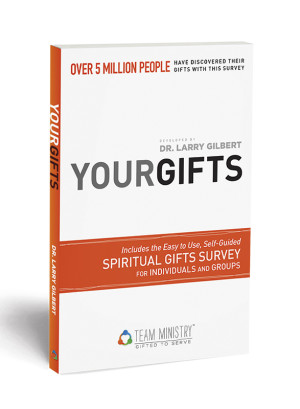 You are gifted.
Discover more about your spiritual gifts and each of the nine team gifts.
For individuals and groups.
Read This Book NOW, eBook Instant PDF Download, Click Here
Read This Book with Your Group, Bulk Pricing for Groups, Click Here
---

Free Online Spiritual Gifts Survey: Discover what you are gifted by God to do on this earth in about 20 minutes, Click Here
---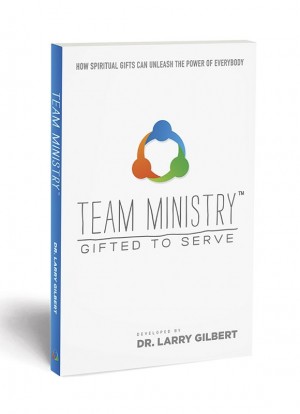 Spiritual Gifts Can Unleash the Power of Everyone!
Lead others to discover their spiritual gifts.
For pastors and group leaders.
Read This Book Now, eBook Instant PDF Download, Click Here
Read This Book with Your Group of Pastors and Shepherds, Bulk Pricing for Groups, Click Here
---
Click on each cover below for more information