So you know how God has gifted you. Your family, group or church members may have discovered what their gifts are. Those who don't know may wonder, "What is my spiritual gift?" In reality they need to ask, "What is a spiritual gift?"
The problem is not that Christians don't know what their spiritual gifts are, the problem is that most Christians don't know what a spiritual gift is.
They do not understand the relationships of spiritual gifts. They don't understand how a spiritual gift relates to their lives, how it relates to the lives of those people around them, how it relates to the local church or how it relates to the body of Christ as a whole. To give John J. Christian an additional name and make him John J. "Exhorter" Christian is only doing him an injustice.
Having a new name or title does not make you a better Christian or give you any more understanding of yourself or of those around you. Most contemporary material written on spiritual gifts does an adequate job of helping you recognize, discover, and determine what your spiritual gifts are. Also, many do a fine job of teaching about the individual members of the body. Unfortunately, few ever complete their teaching by assembling the body.
Teaching a person only what their spiritual gift is without teaching them what a spiritual gift is would be like giving someone a new tool without giving them the operator's manual. They would never understand it fully nor be able to use it to its maximum potential. The same is true with spiritual gifts.
As a matter of fact, I encourage you to also study the principles that revolve around and relate to spiritual gifts when you take any spiritual gifts survey. These principles, combined with recognizing one's gifts, are proven to dramatically change lives and churches.
Close observation reveals nine identifying marks of a spiritual gift. An understanding of those characteristics will help you better understand how the spiritual gift you already have will help you serve the Lord more effectively.
Grasping the knowledge of what a spiritual gift is will help you activate the spiritual gifts God has given you.
---
Dr. Larry Gilbert is founder and chairman of Ephesians Four Ministries, and founder of ChurchGrowth.org. For more on spiritual gifts, see Dr. Gilbert's books: Team Ministry: Gifted to Serve (for pastors and group leaders, from which this article was excerpted) and Your Gifts: Discover God's Unique Design for You (for individuals and groups).

Here are more free articles, one for each of the nine Team Ministry Spiritual Gifts…
---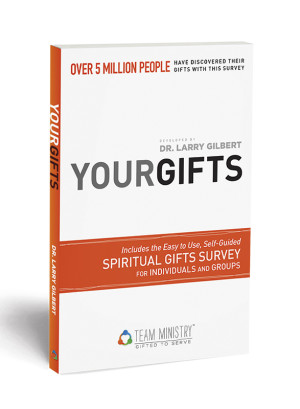 You are gifted.
Discover more about your spiritual gifts and each of the nine team gifts.
For individuals and groups.
Read This Book NOW, eBook Instant PDF Download, Click Here
Read This Book with Your Group, Only $9.99, as low as $7.99 with Bulk Pricing for Groups, Click Here
---

Free Online Spiritual Gifts Survey: Discover what you are gifted by God to do on this earth in about 20 minutes, Click Here
---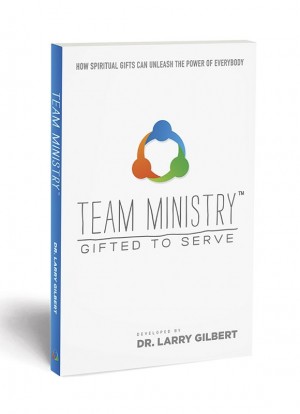 Spiritual Gifts Can Unleash the Power of Everyone!
Lead others to discover their spiritual gifts.
For pastors and group leaders.
Read This Book Now, eBook Instant PDF Download, Click Here
Read This Book with Your Group of Pastors and Shepherds, Bulk Pricing for Groups, Click Here
---
Click on each cover below for more information